Farm Show Farmers Market + Homegrown Zucchini + OhSheGlows = (Always) Good for the Stomach
OK, so it's definitely not my photo, but I came across it online and thought it was fun--pretty sure I like the ninja looking zucchini on the right :) Seeing as how Mike and I picked a few of these homegrown beauties up at the Farm Show Complex Farmers Market last week, I thought tonight would be a great chance to try out a new recipe (a.k.a. they were probably going to get a bit mushy over the coming days).
Fall is pretty much the only time I make sweet breads, simply because you can't beat the farmers market price on zucchini ($1/each) and really, what says fall more than homemade zucchini bread? After a little bit of measuring and just as much messing up my clean kitchen, I had a loaf of Oil-Free Zucchini Walnut Raisin Loaf with Cinnamon Streusel Topping baking away in the oven. I didn't have raisins or walnuts, so mine ended up with pecans and chocolate chips instead (what I won't do for a little chocolate in my life)!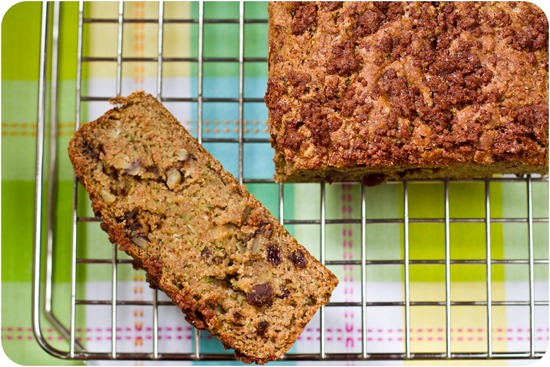 Someday I'll learn how to take my own foodie photos.
Till then, visit OhSheGlows for this great picture and even greater recipes!!!
We haven't cut into it yet, but it smells great! Check back with Mike or I sometime tomorrow and we'll let you know how it tastes; if you're lucky enough, perhaps there will be a few crumbs left. As I write this I'm also beginning to realize that the neighbors may be right--apparently I do bake a lot, hmmmmmm...more to share, I guess. Time to finish up the laundry and call it a night--our visitors are beginning their journey to HBG tomorrow afternoon...YAY!!